Whooooooo's the best sponsor we know?
Why, The Knit Owl, of course!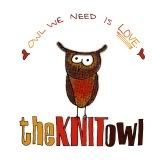 This month we are featured on The Knit Owl's blog. Check it out
here
! You'll see out button over on the right hand side. What is so cool about this blog? Well, to start the awesome girl behind it all is Amby Barnes. She is ultra crafty with all things knit, crocheted, sewed, fabric-ed, cooked, kitty-ed and baby-ed. Yes, she really masters all of these things!
She has an awesome Etsy store located
here
, which you should totally check out.
Oh and you can find her on Facebook,
here
. Her sweet baby Roman will surely knock your socks off at first glance, so watch out!!
I hope you'll take the time to check out our wonderful sponsor!
And thank you, Amby, for featuring us on your blog this month!!