Happy Tuesday everyone! I just got a call from a store in Albion, Illinois called Divine Gifts. Leslie, the owner, found my shop on Etsy and inquired about receiving some samples, so I sent her my press kit. Well her call today provided me with good news- Divine Gifts will now carry my line! Eeek! How exciting! I'm now going to send her a full portfolio and other promo materials to hand out to clients. This totally just made my day.
ALSO, I'm having a sale in my
GreenerMe
shop! I'm part of the EtsyGreetings Team and a group of us are offering FREE SHIPPING through January 15th on all Thank You Card sets. This promo will include my pre-made sets, as well as custom sets. Feel free to
get in touch
with me if you'd like a custom thank you card set! Now that we're all settled in from the holidays, it's time to get those TY's sent out! Here's a great opportunity to get some fabulous handmade cards at a fabulous deal!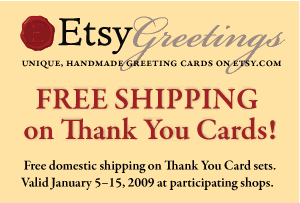 I will have this banner up until the 15th at the top of my blog. Feel free to click it and see what all is to offer from our Team! Thank you!