Hi Friends and Fans!
How is life going for everyone? Life is grand and life is busy over here! 2011 is going to bring some wonderful things to GreenerMe and we can't wait to share all the details with you! Our big focus right now is expanding our product line! In addition to fabulous wedding invitations, GreenerMe will have its very own stationery and gift line! Perfect for home and office! You guys are going to love these products. At first they will be exclusive to stores in the Oklahoma area, but we will have the products available online and in other markets in spring 2011. We have our first shipment going out to
The Felt Bird
this week! I'm excited about this line for many reasons, but mostly because I will be able to participate in shows again! We can't wait to get out in the crowd again and see all your lovely faces in Fall 2011!
In other craft news, some really cool events are coming our way in October! This Saturday, October 16th I am hosting a make:Tulsa Polymer Clay Class at my house! The lovely Holly Embry of
HollyRocks
will get us in the Halloween/Fall spirit by teaching us how to make polymer clay pumpkins! If you're interested in attending, please e-mail me at renee@greenerme.net or leave a comment on this post! The class will start at 2pm in Tulsa, Oklahoma.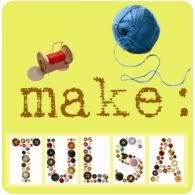 Last but not least, the main event for October is
Indie Emporium
! We are so excited about this event! It will be held at the VFW Post #577 here in Tulsa, Oklahoma on October 29 and 30, 2010. There will be hip craft vendors, make and take tables, hourly demos, live local music, as well as a fashion show held Saturday night! We are also participating in a food donation for the
Community Food Bank of Eastern Oklahoma
. Bring your cans and get discounted tickets at the door!! I am lucky enough to design most of the graphics for this event, so here's a shameless plug of the awesome poster I created!
So festive, fun and spunky! I love helping out with Indie Emporium. Many months of planning went into this event and we can't wait for you to see all the cool stuff in store! Indie Emporium just magnifies and is more awesome each year! We hope you'll come see us!
Thanks for tuning in, we'll be back soon with more fun!