Fish and chips lovers unite! I have the cutest lil place in Tulsa that you need to put on your to-do list asap.


Today's Feature Friday is all about The White Lion. I recently discovered this hidden oasis a few weeks ago when my fiance visited for the first time. He knew I'd love it! I finally got to experience the magic this past week and let me tell you, it is quite delightful!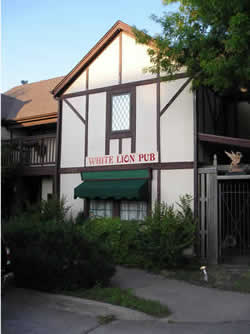 Tucked away in the backroads of 71st street, this gem is right off of Canton, which is close to Yale and right around the corner from Tulsa's favorite gas station,
QuikTrip
. They reside in an old house that has been converted to a restaraunt! I love old and vintage, so as soon as I walked in I knew Josh was right, this was right up my alley!
They have quite an assortment of English pub food including f
ish & chips, bangers & mash, steak & mushroom pie, cottage pie, cornish pastie, welsh rarebit, and more
. And for all the lushies out there, a wide range of beers and other alcoholic beverages are also available!
I hope you'll check out The White Lion!
6927 South Canton Avenue
Tulsa, Oklahoma 74136